Do you need assistance with student WiFi support? The Federal Emergency Broadband Benefit can assist. With this benefit, you could be eligible to receive up to $50 a month towards broadband service. Apply to see if you qualify at
www.GetEmergencyBroadband.org
. Application approvals take only a few minutes! Need assistance applying? Contact NM Student Connect at
www.nmstudentconnect.org
or call 1-888-723-4505. Assistance is available from 7 a.m. to 7 p.m. Monday through Friday and from 9 a.m. to 5 p.m. on Saturdays. #RRPSignites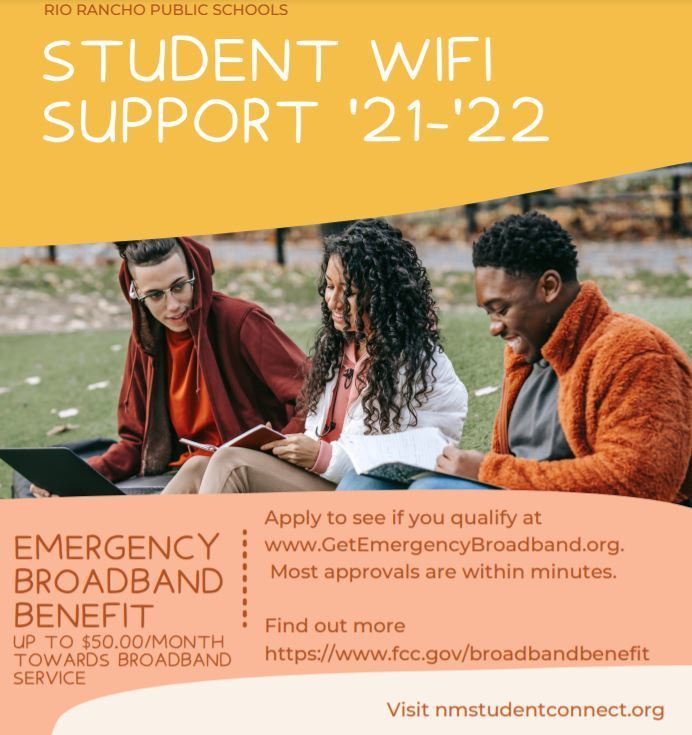 Rio Rancho Public Schools will offer free grab-n-go student lunches for students who are virtual this school year at our SpaRRk Academy, Rio Rancho Cyber Academy and other schools. Starting August 9, Rio Rancho Public Schools will provide curbside grab-n-go meal pickup at Mountain View Middle School and Lincoln Middle School. For full details visit:
https://www.rrps.net/page/food-services

Last night, the Rio Rancho Public Schools Board of Education decided on masking rules for the 21-22 School Year for RRPS students in middle and high school. Learn more or request your secondary student's Mask Pass at:
https://www.rrps.net/page/school-reentry-updates
#RRPSignites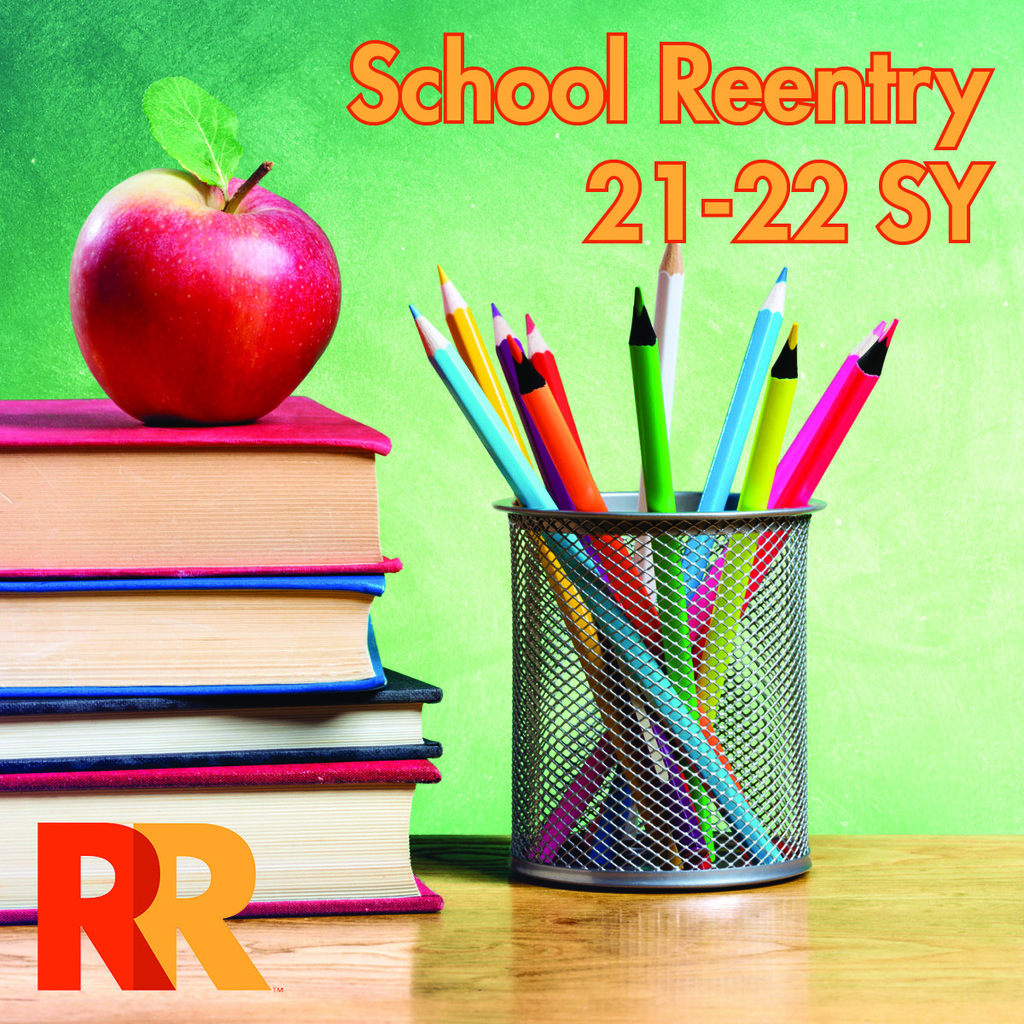 Still looking for a before and after school program for your elementary aged child? The Rio Rancho Public Schools S.A.F.E. Program could be a perfect fit! Registration for this amazing before and after school program reopens TODAY through 5 p.m. on Thursday, Aug. 5. Learn more about the S.A.F.E. Program or fees at:
https://www.rrps.net/page/safe
Register for remaining open spots in the S.A.F.E. Program from Aug. 2 through Aug. 5 at:
https://www.rrps.net/page/safe#registration
Don't miss this great opportunity to register your child for an amazing program that provides a challenging and nurturing environment that empowers each child to discover more about him/herself and to thrive academically, socially and physically through unique and engaging experiences. #RRPSignites

Did you know that the SpaRRk Academy is accepting registrations for new kindergarten students? That's right, if you want your child to attend an all virtual school for the 2021-2022 school year, this is the school for you! The SpaRRk Academy will be the only option for online learning for Rio Rancho Public Schools Kindergarten through 5th grade students. We'll have a dedicated group of teachers working with students in this brand new school for Rio Rancho Public Schools. To enroll your child, follow these steps: 1. Register your child with RRPS for their regular home school 2. Complete the transfer process to request that your child enroll in the SpaRRk Academy We are excited to offer this distance learning platform for our elementary students. Please email
sparrkacademy@rrps.net
if you have any questions about this program. To learn more or get your child registered for the SpaRRk Academy, visit:
https://www.rrps.net/o/sparrk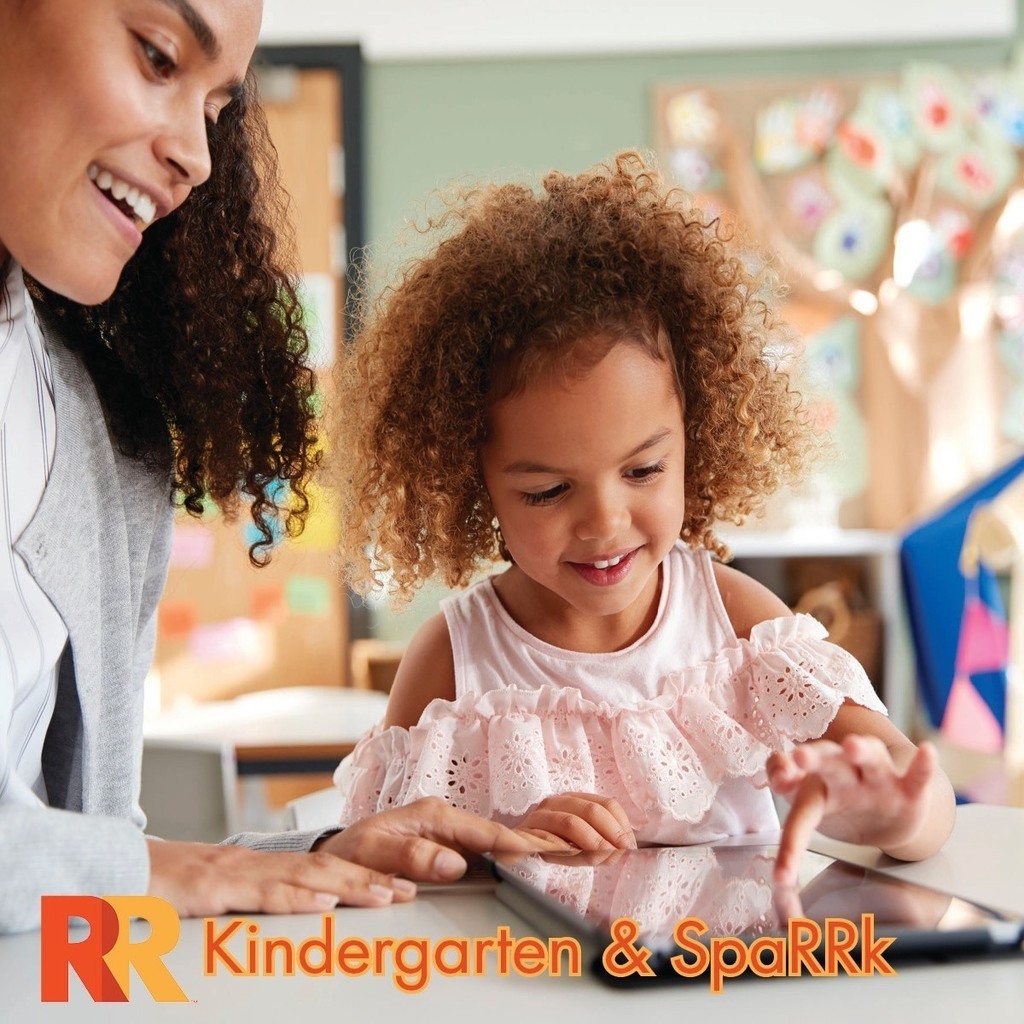 Congratulations to Rio Rancho Elementary School Music Teacher Ana Maria Dark. The district was recently notified that Ana Maria was selected to receive the New Mexico Music Educators Association (NMMEA) John Batcheller Award for 2022 and will also be featured in the Fall edition of NM Musician Magazine. This prestigious award recognizes individuals who have made significant contributions to the field of music education in elementary schools and is awarded annually by the NMMEA. Congratulations Ms. Dark. We are so fortunate to have you as part of our RRPS team and igniting student potential in music for our students! #RRPSignites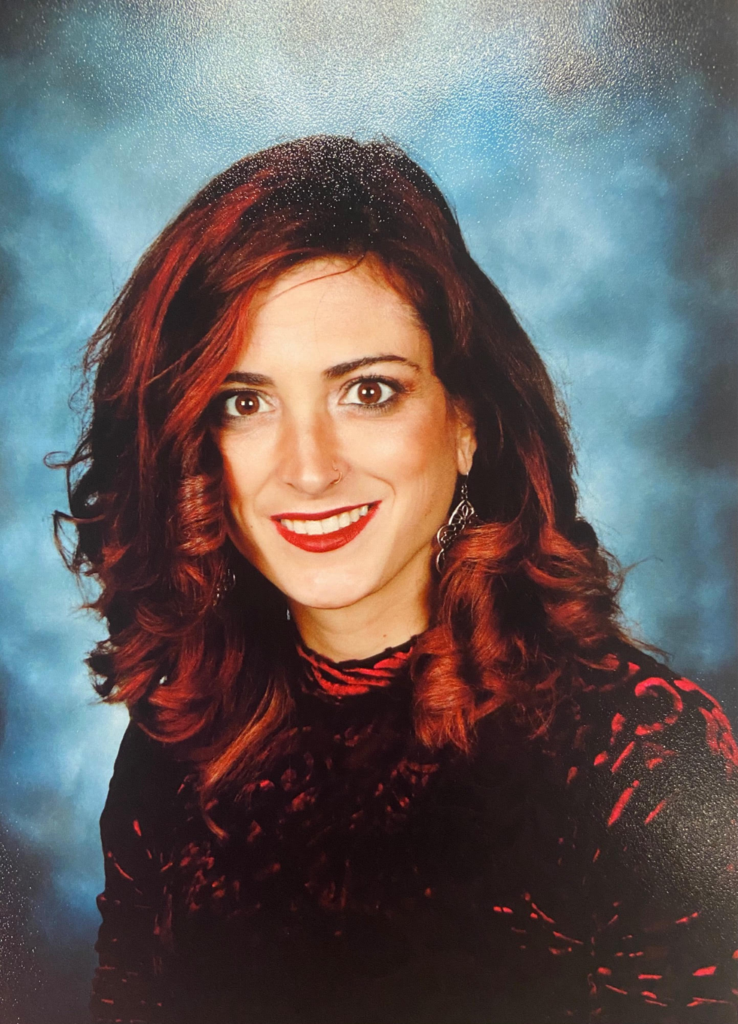 Rio Rancho Public Schools just received the new NMPED School Reentry Toolkit for the 21-22 school year. At this time, we are taking time to review the information. We will be presenting information to our School Board this evening related to the toolkit and reentry (this meeting will be streamed live on our website and YouTube Channel). In regards to the mask requirements and proof of vaccination, we will be working with our leaders to determine how best to proceed within the parameters of the toolkit. We will communicate further details with all parents, guardians and staff as new information becomes available. Updates for school reentry, along with the toolkit just released, can be found at:
https://rioranchonm.sites.thrillshare.com/page/school-reentry-updates

Congratulations are in order for Rio Rancho Middle School teacher Michelle Van Sant for being named 2021 New Mexico History Teacher of the Year by the Gilder Lehrman Institute of American History. In 2021, parents, students, teachers, and administrators nationwide nominated a record 8,510 teachers for the History Teacher of the Year Award. Amidst a very competitive field, one of our very own RRPS teachers rose to the top in New Mexico. The History Teacher of the Year Award highlights the crucial importance of history education by honoring exceptional American history teachers from elementary school through high school. The award honors one K-12 teacher from each state, the District of Columbia, Department of Defense schools and US Territories. In fall 2021, the National History Teacher of the Year will be selected from the pool of state winners. #RRPSignites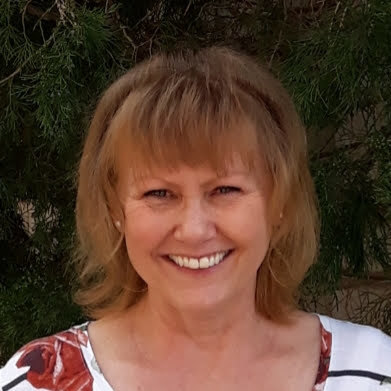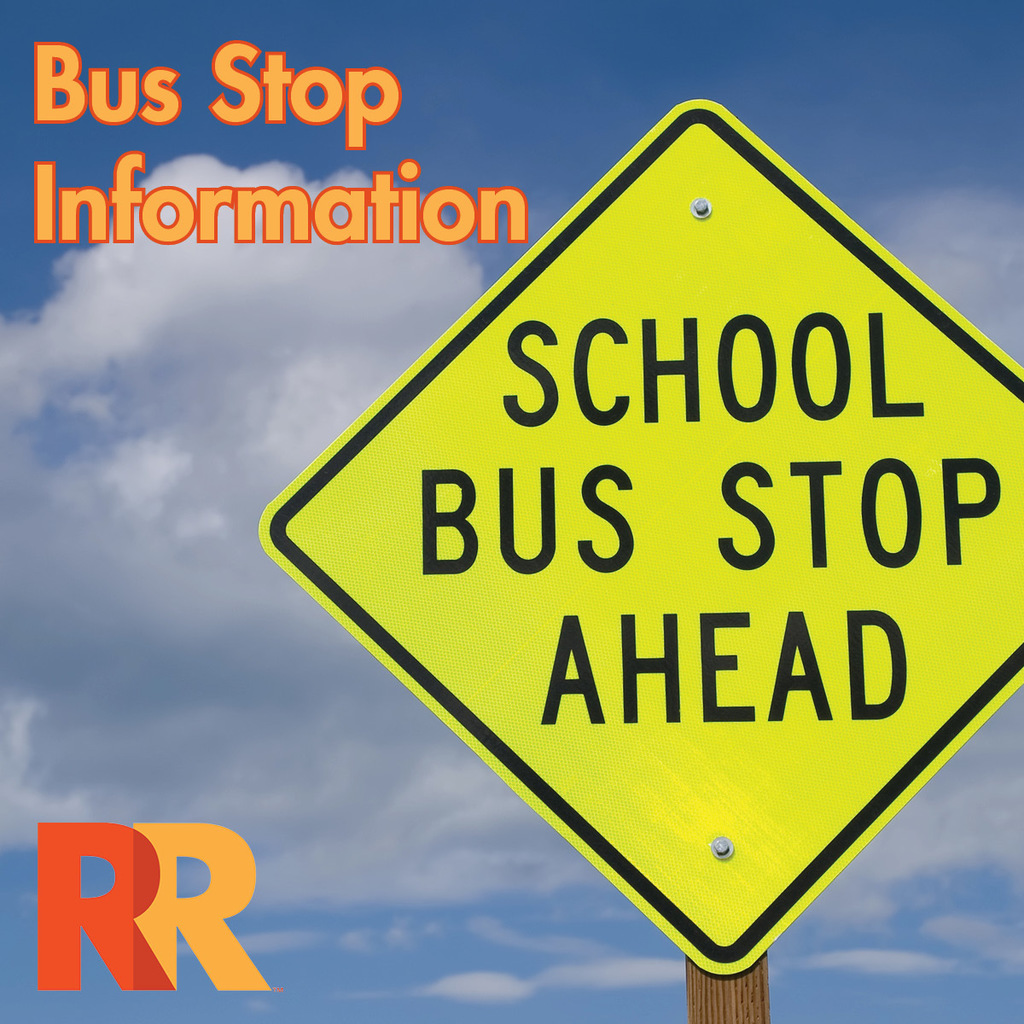 Rio Rancho Public Schools is hosting a Job Fair. Those in attendance at the event can apply for any of our open positions right on-site. Plus, those applying for custodian, bus driver, mechanic, security or substitute teacher positions will interview at the event. During the event, we'll walk you through the application process and assist with application submission. We'll also have Spanish translators available. Come dressed for success and prepared to interview with our hiring teams. Please bring a valid I.D. Rio Rancho Public Schools offers competitive wages, great benefits, flexible schedules and so much more! Join us July 27 from 4 to 6:30 p.m. at the RRPS Training Center located at 500 Laser Road in Rio Rancho. (Newer building on the North side of the RRPS District Office campus). #RRPSignties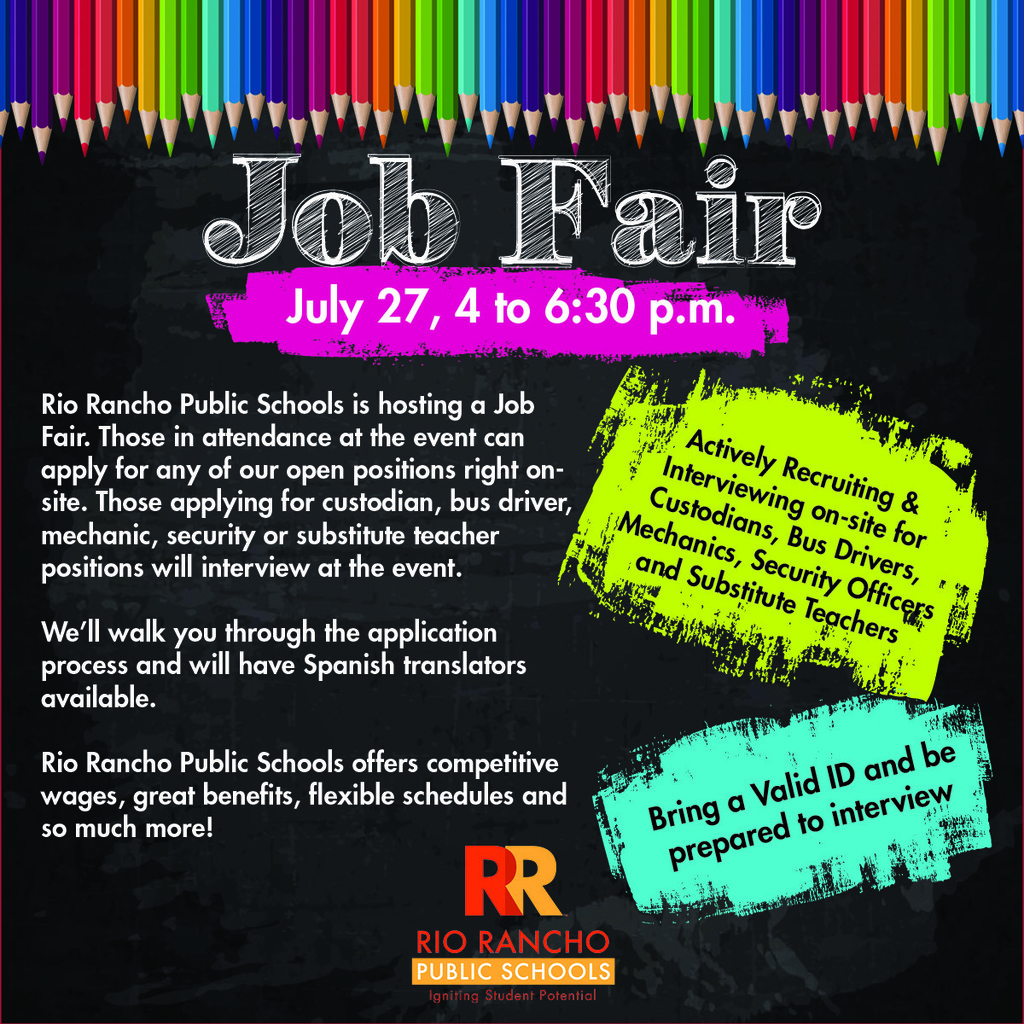 Does your child or teen still need a COVID-19 vaccination? Good news, our partners at the Garza Family McDonald's, Walgreens, City of Rio Rancho and Blue Cross and Blue Shield of New Mexico are hosting a Community COVID-19 Vaccination Health Fair on June 26. From 12 to 4 p.m. at the McDonald's located at 1390 Rio Rancho Blvd NE, children and teens ages 12-17 will be able to receive their Pfizer vaccine for free. A parent or guardian must be present. Children who receive a vaccine that day will also receive a card for a free McDonald's All-American Meal item. *No appointment necessary; Face masks are required during the vaccination process for all those in attendance. The second shot for these children will be administered at the same location on July 24.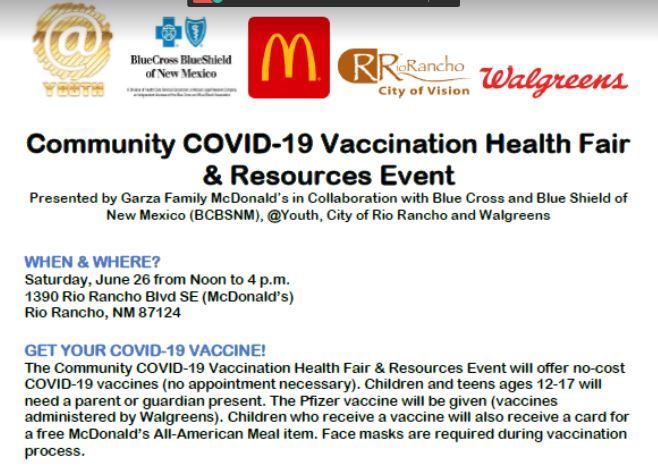 With the Rio Rancho High School Rams 21-3 victory yesterday over Volcano Vista High School, Rams Coach Ron Murphy has become the all-time winningest high school baseball coach in the state of New Mexico with 582 career wins! Congratulations, Coach Murphy. Thank you for all you've done for RRHS as our one and only baseball coach. #RRPSignites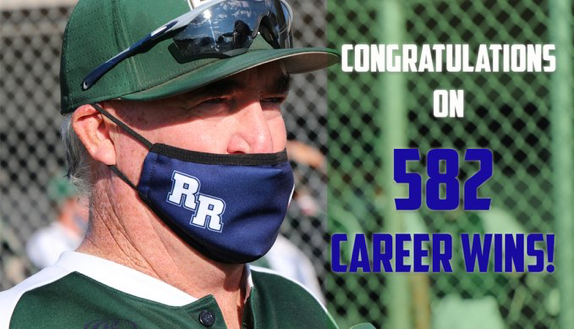 Kudos to students at Mountain View Middle School for their school-wide collaborative mural which was recently completed. Each student used watercolors, crayons, colored pencils or markers to create a mixed media drip design. Each design was then connected to create a large wall mural that wraps the hallways. The overall goal of the project was for students to learn about contemporary artist Jen Stark, who inspired the lesson and to feel a sense of unity during these times of separation and space. Although social distancing requires us to stay 6 feet apart when possible, this mural shows pieces of student art can be surrounded by our peers, symbolizing that we are all in this together. In total 167 students participated from 6th, 7th and 8th grade. Great job Mountain View Middle School! #RRPSignites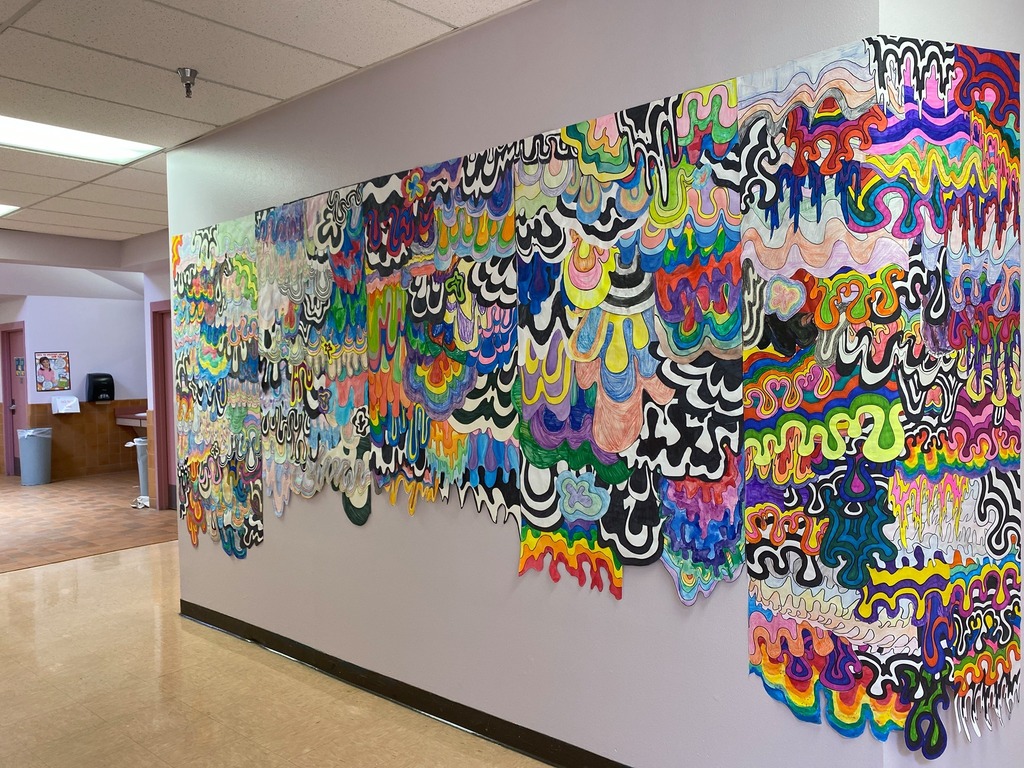 Congratulations to the Kindergarten and 5th grade Vista Grande Elementary Students who recently celebrated their promotion ceremony with a drive-thru event. The 5th grade students will be entering the world of middle school next school year and we're so proud of them. VGE will miss our 5th graders, but they'll be Grizzlies for life! Plus, we look forward to continuing to see our kindergarten students, now 1st graders, grow and learn in the halls of VGE.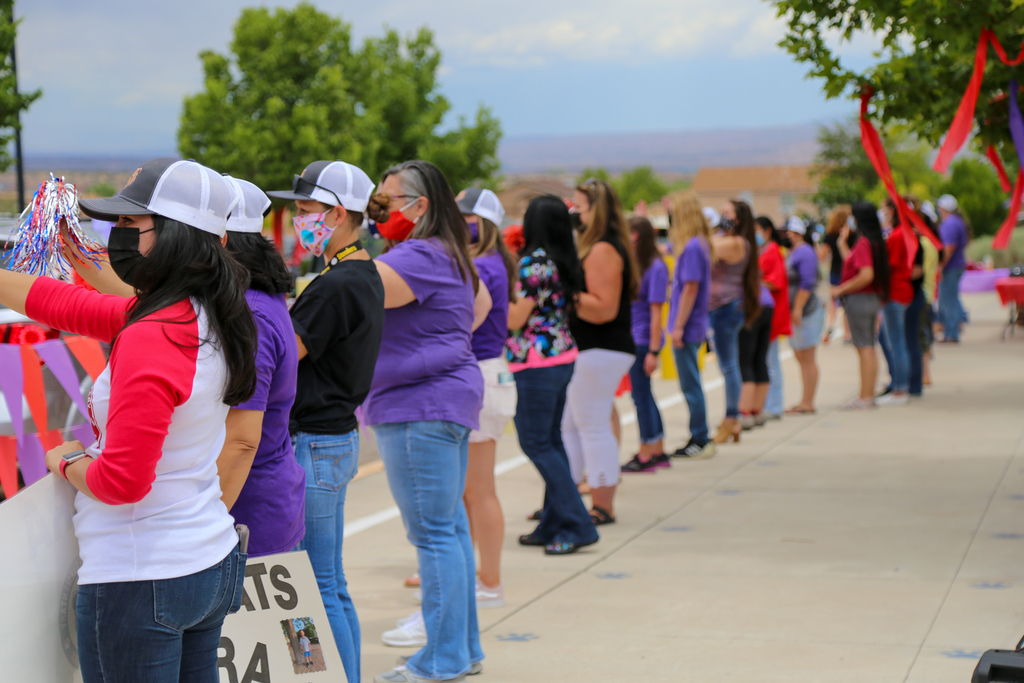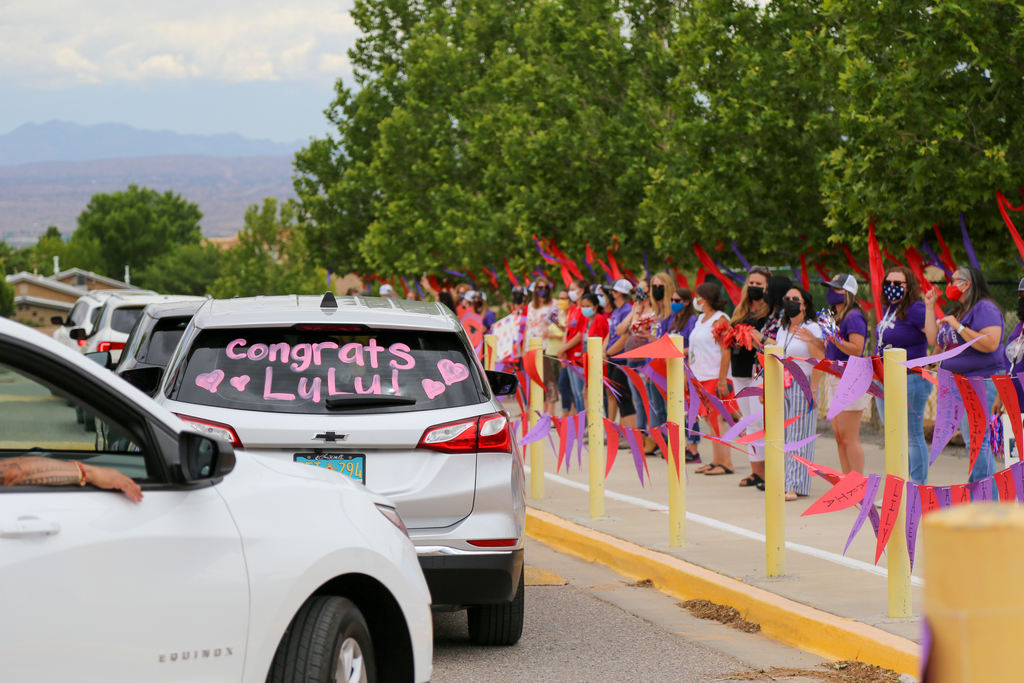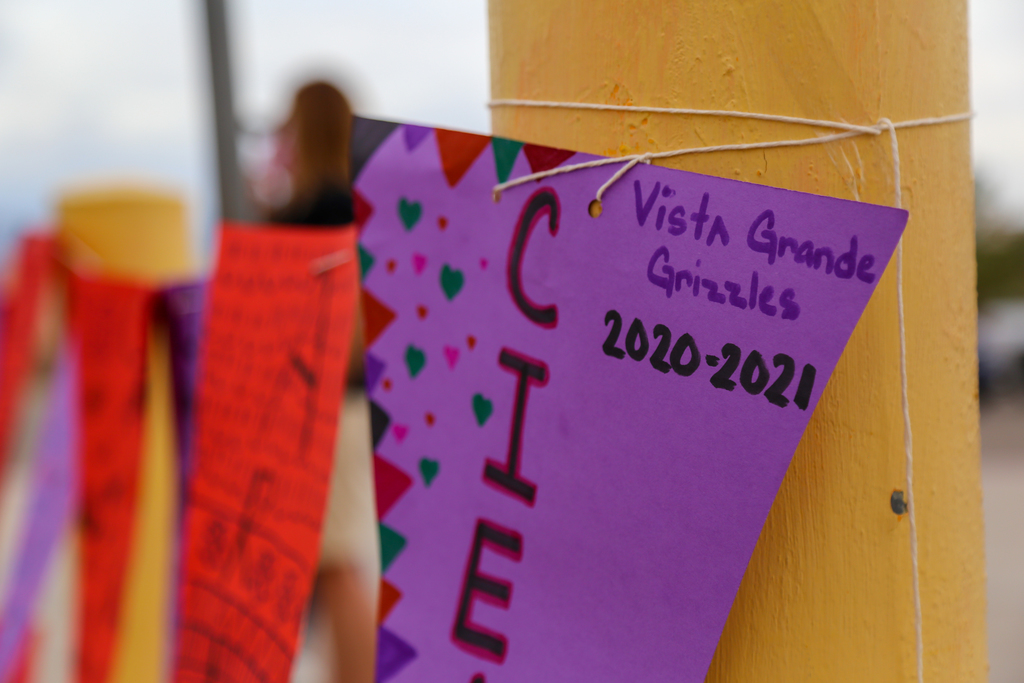 At Rio Rancho Public Schools we're proud to say that our graduates go on to do great things after having their potential ignited by our teachers and staff. Check out this story from our partners at CNM about a 2018 Cleveland High School graduate doing great things as she now tackles college. We're so proud of Rachel and her success! Learn more at:
https://www.cnm.edu/news/faces-of-cnm-rachel-yazzie
... #RRPSignites

A big Shining Stars thank you goes out to Boy Scout Troop 2010 for the time they recently spent cleaning up the outside grounds on the new Shining Stars Preschool campus. The troop spent a Saturday walking the outer school grounds picking up trash and debris. Thank you to Troop 2010 for helping to keep a shiny campus for Shining Stars students! #RRPSignites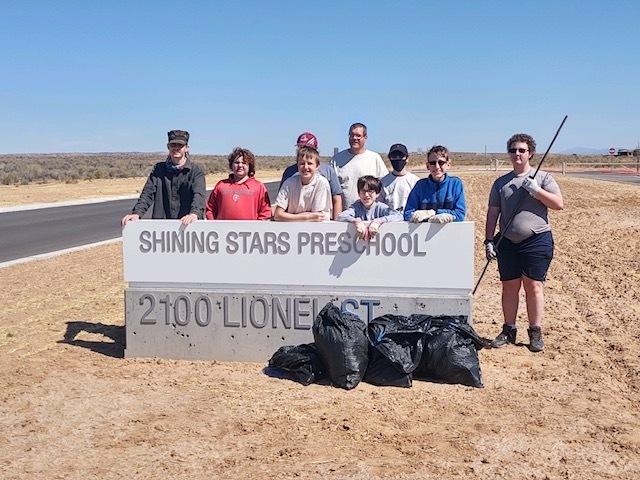 The RRHS Athletic Department is proud to announce that five RRHS baseball players have signed to play college baseball next year.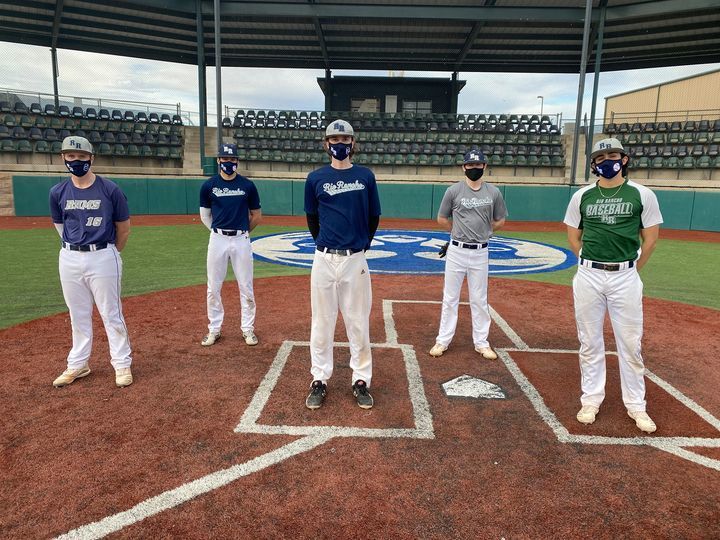 The Rio Rancho High School Athletic Department is proud to announce that four of our Cross Country (XC) athletes have now signed National Letters of Intent to run in college next year.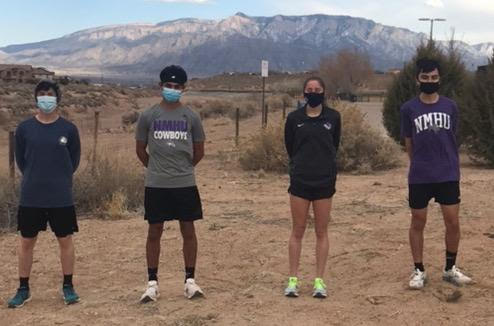 Congratulations to all of the Educators Rising students who competed. We are so proud of all of you!