Contact us for Technology Support - Parents, Students, and staff:
Contact us for needs other than Technology Support (Vendors, Departments, etc):
Welcome to the I.T. Department
The Information Technology Department oversees many services and products across the district, in support of teaching, learning, communication, and internal business processes.
The IT Service Desk is the frontline for supporting staff, students, and parents. They take the first look at any IT support needs and answer your phone calls, chat, and tickets.

IT Technicians configure machines, troubleshoot, and repair technology issues across the district

The Network Team provides user account management, Internet connectivity, email capability, filtering, and permission settings to ensure CIPA and FERPA compliance, software installations and updates, network infrastructure, wireless access, server storage, backups, Data Center maintenance, support, and protection.

Our Telecom Team support phones, cabling, intercom, clock/bells, and other ancillary systems.

Our Data Team supports our Student Information System (PowerSchool) and our HR/Finance Systems (Alio/SchoolERP) as well as assisting with other database systems and interfaces. The state and federal reporting data provided to them are processed to provide a plethora of data extracts and reports for the entire district.

A few examples of what the IT Department manages:

Hardware equipment inventory, ordering, disposal, and refresh plans for computer desktops, laptops, printers, interactive whiteboards, projectors, document cameras, classroom response systems, servers, switches, etc.

Purchase, installation, and maintenance of software including MS Office, LANSchool computer lab management, Follett Destiny, Adobe Creative Suite, AirWatch Mobile Device Management, Print Manager, etc.

Copier Leasing Contract and Communication bills (telephone, fax, and internet/data) for the entire district
What we do impacts the work and lives of every student, staff, and administrator in the district each and every day.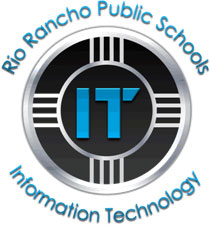 Technology Use Agreements
Wifi Access at RRPS Properties
Rio Rancho Public Schools offers wireless internet access (Wifi) for guests (public users) and staff. Please click on one of the links below to learn more about accessing our Wifi: