School, District Events Support the Community
Posted on 11/21/2018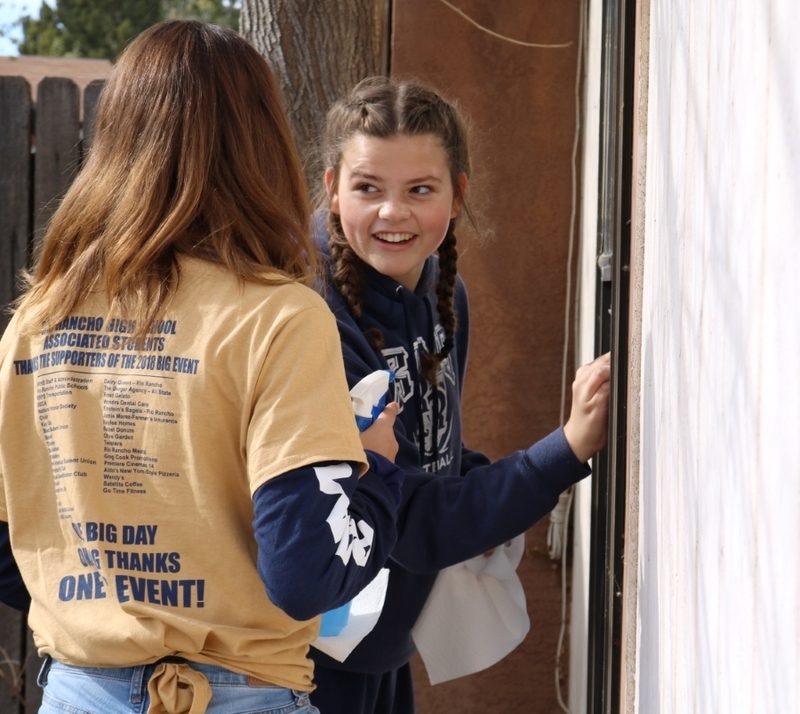 Throughout the year schools throughout the district give back to Rio Rancho in a variety of ways: collecting food and clothes, blood drives, public musical performances, dances at retirement centers for seniors, and more! Here are just a few ways RRPS gives back during the holiday season and throughout the year:
United Way
Through the generosity of hundreds of individual employees, RRPS is one of the region's biggest donors to United Way. RRPS employees donated more than $125,000 through United Way this year.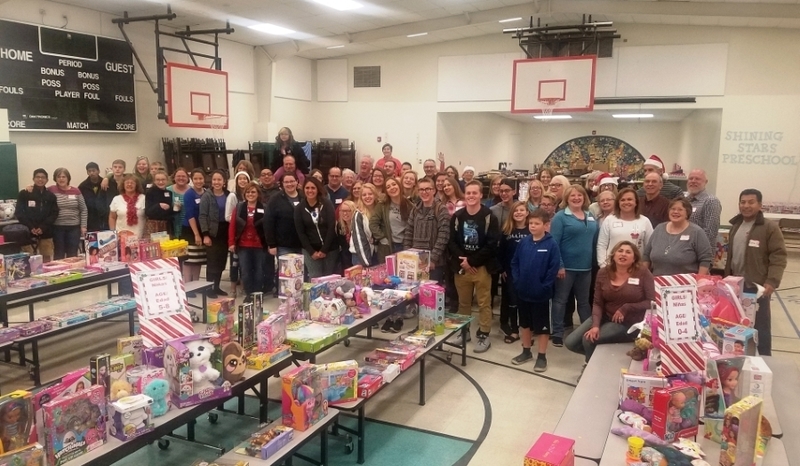 Holiday Store
The holidays are just a bit brighter for 157 Rio Rancho schoolchildren who have gifts to open, personally selected by their parents at the RRPS/Faith Based Committee annual Holiday Store. The store gives parents in need the opportunity to "shop" for two toys for each of their children while volunteers work with the kids in another room on arts and crafts. Volunteers then wrap the gifts – more than 300 of them -- so the children can be surprised on Christmas Day.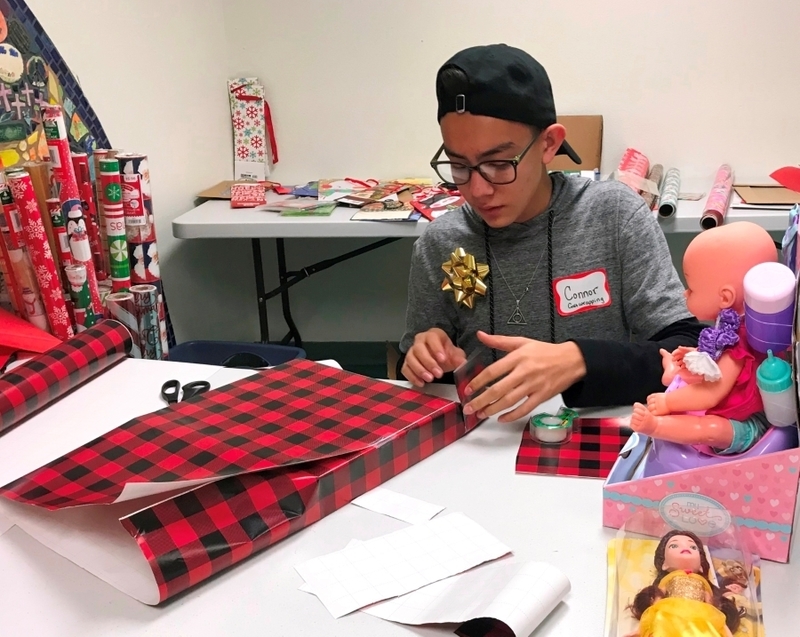 The committee is an interfaith group made up of clergy and church volunteers along with Rio Rancho Public Schools staff who work together on issues related to the well-being of Rio Rancho's children. The churches collect donations of toys from local businesses and RRPS counselors identify families in their schools who need assistance in supplying a Merry Christmas for their children. Without the store, many of these children would have no gifts at all.
Light Up the Holidays!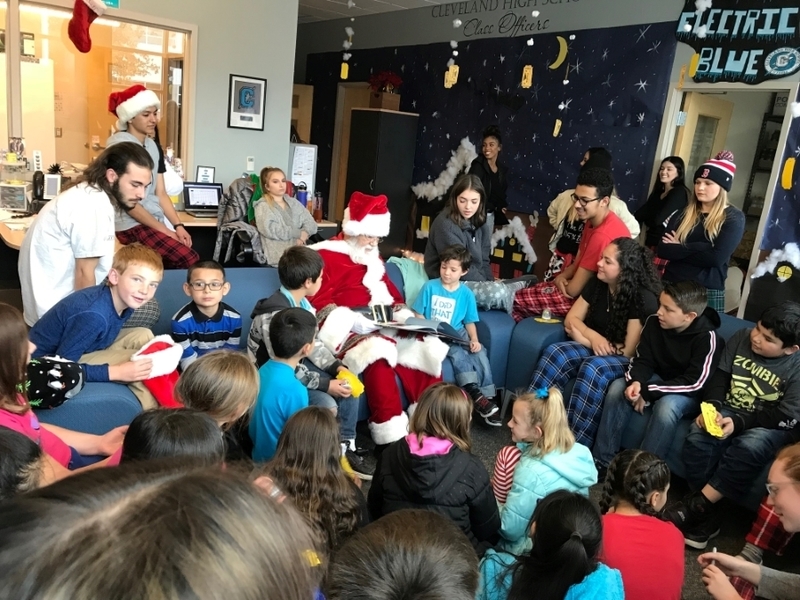 At Cleveland High every year, Santa makes an appearance at Light Up The Holidays, another way students and staff make sure every child has a joyous holiday season. CHS's Student Government (StuGO) invites students from its feeder schools (future Cleveland students) to come to a party at CHS. At the party, each child receives a coat, shirt, pants, and a present. StuGo raises money to support the event by selling hot chocolate, Frontier sweet rolls, and candy grams.
Ram Athletics Toy Drive
They go all out on the field every day, but every year Rio Rancho High School student athletes go all out for children in need in our community. Their annual toy drive contributes hundreds of toys to the Rio Rancho Police Department's drive benefiting families in need. That's a lot of athletes in the photo shown here, and enough toys to fill 2 1/2 pickup trucks! RRPD has invited Santa himself to deliver the toys to the children at a party later this December.
Tis the Season to Sing!
Performing groups from schools throughout Rio Rancho fan out across the city during the first part of December to spread a little holiday cheer. They visit government offices, local businesses, hospitals, and retirement and nursing homes, showcasing their (considerable) talents and the spirit of the season. The group seen here, from Enchanted Hills Elementary, did a 20-minute program of traditional holiday fare along with songs of peace. The RRPS Student Transportation Department provides buses.
RRHS's "The Big Event"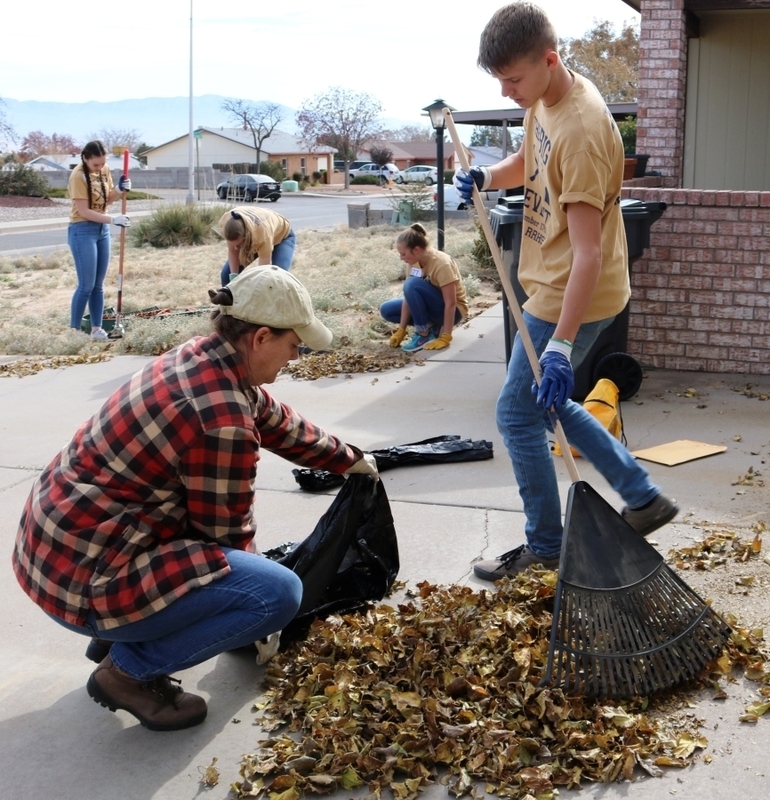 On Saturday, November 17, approximately 630 students and 90 adults volunteered as part of the 11th Annual BIG Event community service project, organized by Rio Rancho High School Associated Students. The teams of student volunteers, and their adult supervisors, fanned out across Rio Rancho to do yard work, and other odd-jobs at the homes of some 90 Rio Rancho residents. RRHSAS organizes the BIG Event every year to say "Thank You!" to the community for its support of Rio Rancho Public Schools.
Approximately half of the adult volunteers who donate their Saturday are RRPS educators, with parents and community members comprising the other adult volunteers. RRPS supports the BIG Event by providing transportation of the volunteers to and from the job sites.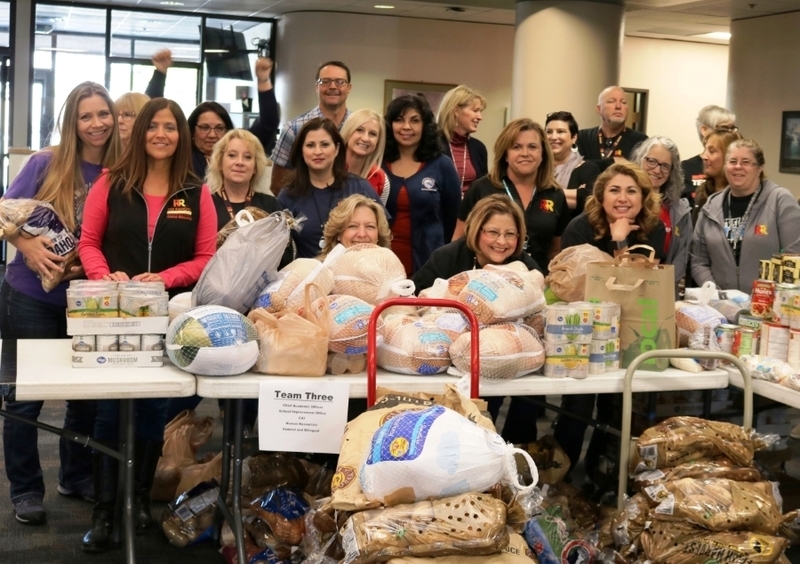 Storehouse West Food Drive
The RRPS district staff annually holds a pre-Thanksgiving food drive to benefit Storehouse West. Teams of district-level employees square off in friendly (mostly!) competition to see which group can collect the greatest number of pounds of food. (In the photo, the winning team!) This year's total donation of 4,582 pounds of turkeys and canned and packaged goods beat last years!
The real winners, of course, are the many families across Rio Rancho who might not have any dinner at all -- let alone a Thanksgiving dinner -- without Storehouse West and the people across our community who donate food and other goods.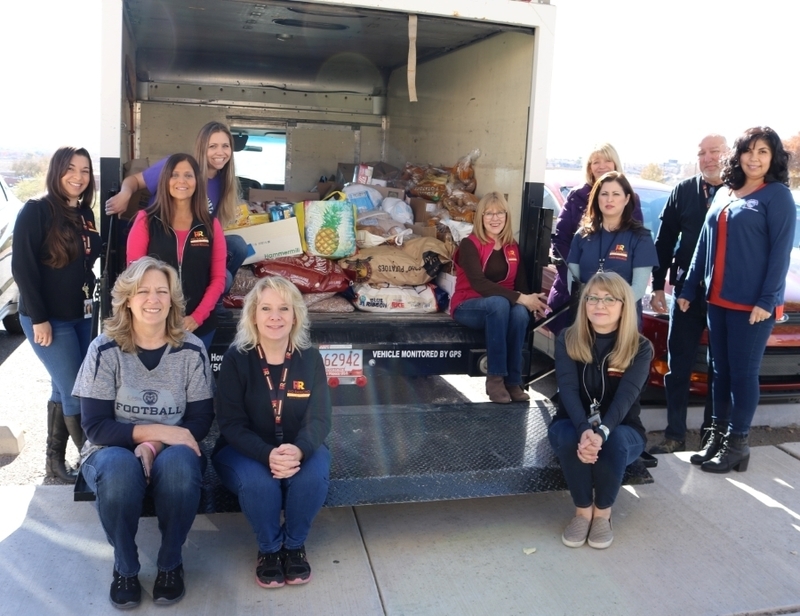 In thanking the staff for their support, Superintendent Sue Cleveland wrote, "One last thing I would like you to know: when the truck arrived [at Storehouse West with the district's donated food], the pantry was empty. What a difference you have made in the lives of families for this Thanksgiving holiday. It is an honor to work with so many caring and compassionate people!"
A Helping Hand from the Community
KOAT made a much-appreciated appearance at Maggie Cordova Elementary, as well as other Rio Rancho schools, to drop off coats for students in need as part of their annual KOATs for Kids drive.