Students Are All Leaders at MLK
Modeling The 7 Habits Supports Learning, School Climate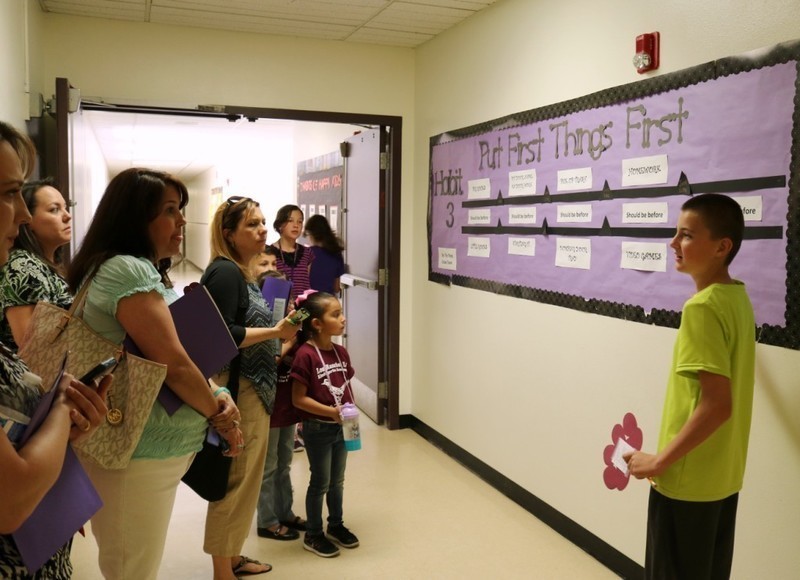 At Martin Luther King, Jr. Elementary, you might walk down the halls and hear students using terms like "synergize," "win-win," and "sharpen the saw." If they sound familiar, maybe you've read Stephen Covey's "7 Habits of Highly Effective People" – not exactly a book you'd envision third-graders reading. But The Leader In Me program at Martin Luther King, Jr. Elementary brings those seven habits to life and makes them a part of daily living for students as young as kindergarten.
MLK is the first and currently the only public school in New Mexico to adopt The Leader in Me process for school improvement. In this program, students learn the 7 Habits in age-appropriate "kid-friendly" terms and how to incorporate them in their behavior at school and at home. All students learn that they are leaders who have something to offer their fellow students and to model responsibility, vision, integrity, teamwork, and collaboration.
At the end of their first year of the program, the staff and students at MLK invited Superintendent Sue Cleveland, Mayor Gregg Hull, school board members, principals from other schools, and parents to see The Leader in Me in action. Students led tours through the school and performed songs showcasing the 7 Habits, and staff members talked about the impact the program has had in the classroom and on campus. Photos here!
Principal Kathy House says this year will become a statistical baseline year for looking at the impact the program has had on student achievement and behavior. However, she feels the impact on school climate is already being felt.