Cleveland High Principal Elevated to Hall of Fame
Posted on 12/12/2018
How's this for an addition to a long list of awards and recognitions: Hall of Famer!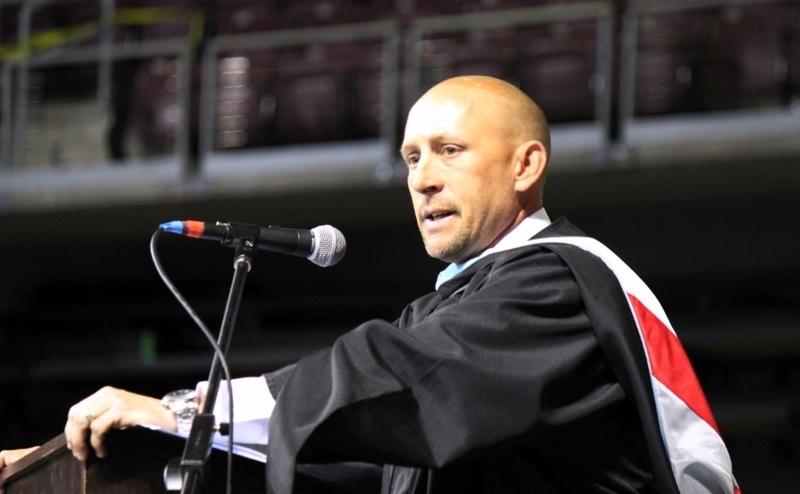 Cleveland High School principal Scott Affentranger can now claim that title, as a member of the New Mexico Activities Association's Hall of Fame Class of 2019. Affentranger and two other inductees will be initiated into the Hall next March. Affentranger has also previously been recognized as New Mexico's High School Principal of the Year, and as High School Assistant Principal of the Year. He's shown here at one of his many appearances at Cleveland High's graduation ceremony.
A UNM graduate (Bachelor and Masters) and collegiate athlete in track and wrestling, Affentranger began his teaching career at Washington Middle School in Albuquerque and as a wrestling coach and teacher at Sandia High School. He then became an administrator in the Moriarty-Edgewood school district before being lured to Rio Rancho as an assistant principal at the then-new Rio Rancho High School. Affentranger then went on to open the former Rio Rancho Mid-High School (2002), where he served as principal until being tasked in 2007 with planning and opening Cleveland High. He is Cleveland's founding and still only principal.
Affentranger is a firm believer that athletics, extracurricular, and academic excellence go hand-in-hand, and is determined to build outstanding programs in all three. Cleveland won its first state championship (in bowling) just ten months after the school opened, and Affentranger has been on the sidelines and in the stands for almost all of them. The school now owns 36 state team championships, and has been twice been named one of the top sports high schools in the nation by MaxPreps. CHS also boasts a formidable academic reputation, having sent students to the Intel International Science and Engineering Fair as well as competing successfully in CyberPatriot (cyber defense), JROTC, and other disciplines.
Scott Affentranger is one of several NMAA Hall of Fame members with a connection to RRPS. Others include former athletic directors Randy Adrian and Bruce Carver, current Cleveland High athletic director Matt Martinez, and former Rio Rancho High principal and district Chief Communications, Strategy, and Engagement Officer Gary Tripp.