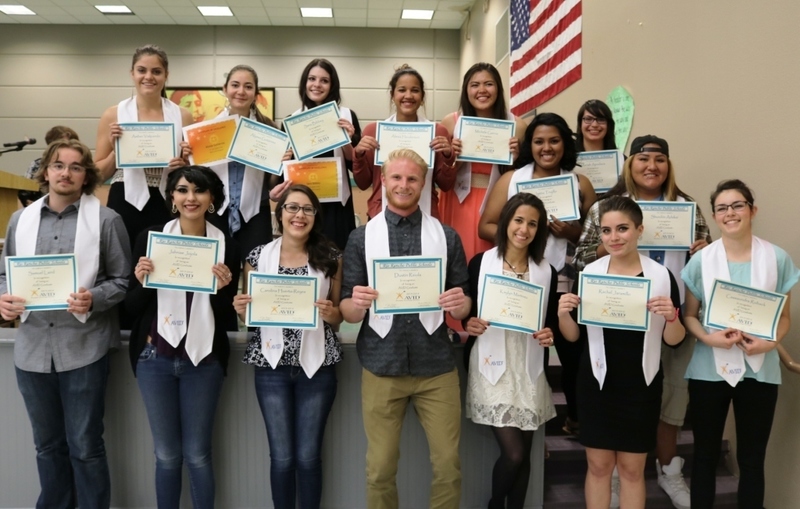 When it comes to high school success, nothing spells s-u-c-c-e-s-s like being accepted to college. That makes the record set by seniors in Rio Rancho Public Schools' AVID programs even more remarkable.
Every senior in the Rio Rancho High and Cleveland High AVID program has been accepted to at least one postsecondary institution or has a job waiting out of high school.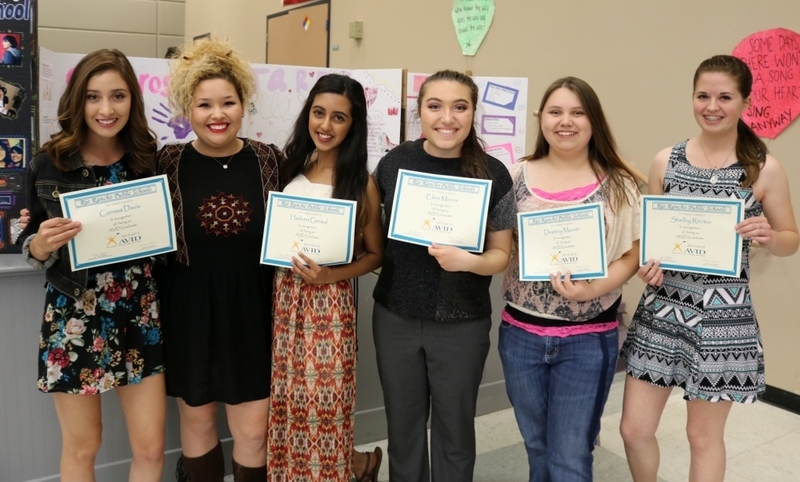 Even more impressive: every student who began the program in middle school and stayed with it through high school earned one or more college scholarships. The photos at right show college-bound AVID seniors from Rio Rancho High (top) and Cleveland (bottom).

These are students who dream big dreams. Jenna Trujillo and Kaylyn Martinez from Rio Rancho High and Jasmine Almaraz and Harleen Grewal from Cleveland High spoke of pursuing careers teaching, in medicine, and beyond. Kaylyn will be part of the first undergraduate class at the new, New Mexico State University-affiliated Burrell College of Osteopathic Medicine, with her eyes set on becoming a doctor upon completion of the program.

The AVID program -- AVID stands for Advancement Via Individual Determination -- challenges students to reach beyond their perceived academic limitations, encourages them to enroll in Advanced Placement classes, and prepares them for college after graduation. AVID offers additional support for students who are interested in going to college and/or are in the "academic middle" -- B and C students who could excel given the right skills and financial, social or emotional support. Many AVID students are the first in their families to attend college.

AVID is an elective class offered in middle and high school. Students in AVID learn study and time management skills along with receiving support and assistance in their regular academic courses. In acquiring these skills, students gain the self-confidence to succeed and form bonds with fellow students, teachers, and the volunteer tutors who provide support.
Cleveland High AVID Graduates

Jasmine Almaraz
Corissa Davis
Harleen Grewal
Destiny Maurer
Eleni Morris
Shelby Rector


Rio Rancho High AVID Graduates

Shundiin Adakai
Mariah Apodaca
Sarah Bibbey
Renato Carillo
Cresencia (Casey) Craig
Anthony DiLucente
Michele Garcia
Joshua Gurule
Alyssa Gutierrez
Alexis Henderson
Erica Henry
Carolina Huerta-Reyes
Rachel Jaramillo
Robertrey Jaramillo
Jahnise Jojola
Samuel Laird
Adrian Lopez
Kaylyn Martinez
Duston Raiola
Cassundra (Cassie) Roback
German Sanchez
Christopher Sisneros
Jenna Trujillo
Amber Vialpando
Taren-Layne Warfield