Every May, Rio Rancho Public Schools hosts an event to recognize retiring staff, exemplary employees, and each school's Volunteer of the Year. Congratulations to all of our honorees!

RRPS Retirees 2015-16
Rio Rancho Public Schools recognizes staff members retiring during the 2015-16 school year, and thanks them for their loyal service to the children of Rio Rancho: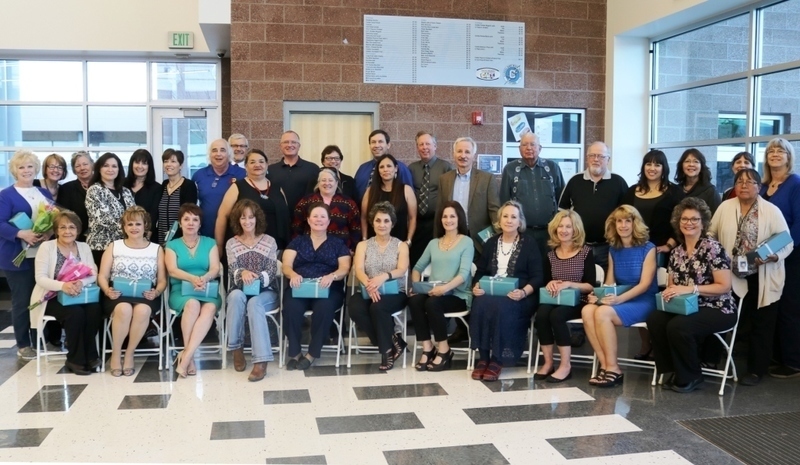 Theresa Archuleta, Karen Baisden, Robert Barrette, Jennifer Beckholt, Diane Boner, Janis Brock, Joy Burns, Susan Campos-Saiz, Anastasiya Cannon, James Caruso, Patricia Chavez, John Christensen, Suzanne Dimiceli, Lisa Dobson, Joanne Duran, Theresa Flores, Fama Finley-Lara, Danny Franks, Kathleen Fritz, Cathy Gaarden, Joan Hickman, Mary Kay Hofmann, Melissa Holder, Cynthia Hunter-Crofton, Catherine Isengard, Concepcion Jerome, Johanna Johanson, Ryan Jones, Cheryl Liccione, Frank Linton, Violet Martinez, Nancy Mazzei, Jeff Moeller, Melodee Moeller, Dora Montano, Bette Morrow, Julianne Muscari, Tina Patterson, Jane Petre, Camilla Pfeifer, Julie Ann Rivera, Eileen Romano, Gary Sandberg, Steven Savonen, Jennifer Secrest, Evelyn Shije, Donnie Spanswick, David Stockmar, Clara Trimboli, Richard VonAncken, Eric Walters, Shelly Williams, and Karen Zamora
Volunteers of the Year Recognized
Nearly 3,000 volunteers in Rio Rancho schools work with staff and students every year, helping out in the classroom and school offices, on sports fields, and in art and music rooms. In six months during the 2015-16 school year, volunteers logged 23,744 hours, which is equivalent to having almost 29 additional full time employees in our schools!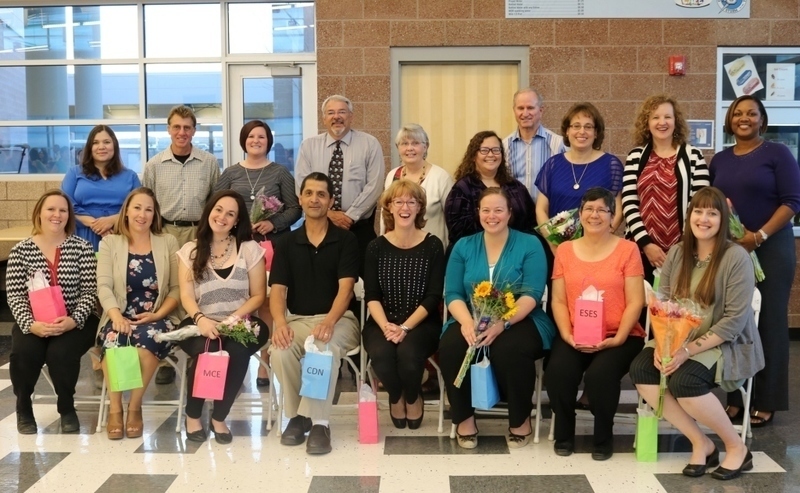 Some volunteers truly go above and beyond, and Rio Rancho Public Schools honors them every year at its annual Recognition Dinner. Each school chooses a Volunteer of the Year; this year's honorees are:
Corrie Andries, Rio Rancho Elementary
Suzanne Bodin, Sandia Vista Elementary
Shane Carr, Vista Grande Elementary
Shiya Gensen, Independence High
Larry Goga, Rio Rancho Cyber Academy
Roben Henry, Cleveland High
Alexis Jimenez, Ernest Stapleton Elementary
Cheryl Kemnitz, Cielo Azul Elementary
Lauren Kubler, Lincoln Middle School
Hal Makofske, Rio Rancho Middle School
Cheryl Montoya, Puesta del Sol Elementary
Rani O'Brien, Eagle Ridge Middle School
Jose Padilla, Colinas del Norte Elementary
Patty Rudolph, Rio Rancho High
Tania Shetter, Maggie Cordova Elementary
Tammy Thomas, Mountain View Middle School
Angela Tinker, Martin Luther King, Jr. Elementary
Chelsea Wagner, Enchanted Hills Elementary
Mary Wirth, Shining Stars Preschool
Recognizing Teachers Who Have Earned National Board Certification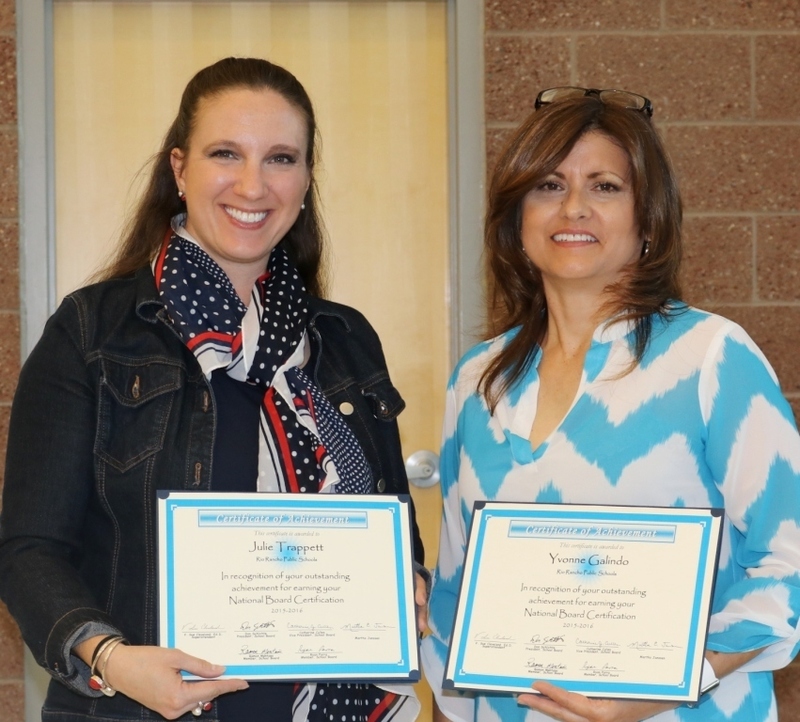 Three teachers earned National Board Certification during this school year: Yvonne Galindo, and Julie Trappett, both from Cleveland High School, and Erin Morin from Mountain View Middle School. Ms. Trappett and Ms. Galindo are shown in the photo.
Recognizing our Substitute Teachers of the Year
Substitute teachers play an important role in every school; they keep students on task and learning when the regular teacher is not able to be in the classroom. Many of our substitutes are truly fine instructors. This year's substitute teachers of the year are:Colleen Jones -- Elementary schools (at right in photo)Barbara Clinton -- Middle Schools (at left)Corrado Russo -- High Schools (in the center)
Recognizing RRPS Staff Members Chosen for Special Recognition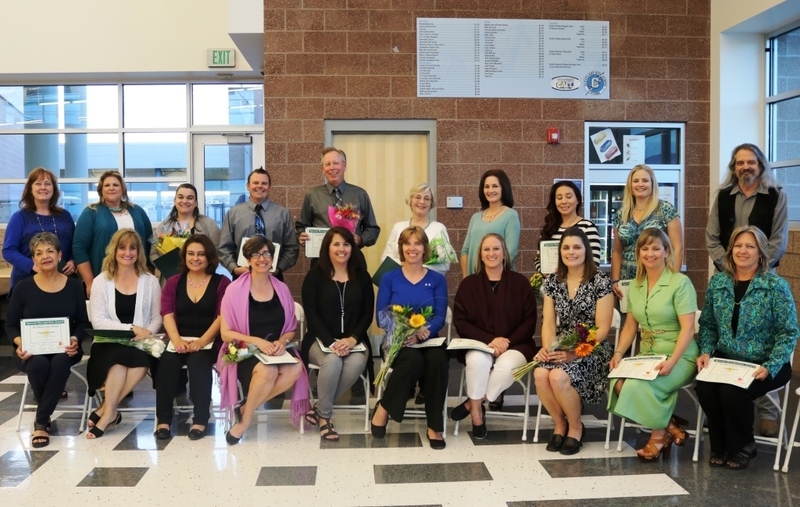 Every year, each Rio Rancho school and the district office recognize an employee who has gone above and beyond for the children and staff on their campus. The photo at left shows staff members from each school chosen for special recognition in 2015-16:
Hope Alcon, Eagle Ridge Middle School
Heather Armstrong, Sandia Vista Elementary
Tanya Baker, Lincoln Middle School
Jennifer Bartley, Colinas del Norte Elementary
Trish Beckett, Maggie Cordova Elementary
Amanda Bell, Ernest Stapleton Elementary
Tiffany Bem, Rio Rancho Middle School
Alicia Bigger, Mountain View Middle School
Amy Gallardo, Vista Grande Elementary
John Galloway, Enchanted Hills Elementary
Mary Corina Haley, Cielo Azul Elementary
Charles Lee, Independence High
Virginia Nevarez, Rio Rancho High
Barbara Smith, Puesta del Sol Elementary
Deidra Stewart, Martin Luther King, Jr. Elementary
Natalie Todd, RRPS District Office
B.J. Toledo, Shining Stars Preschool
Jamie Villanueva, Rio Rancho Elementary
Daniel Woodrow, Cleveland High
Patty Wormington, Rio Rancho Cyber Academy
Recognizing 20-Year Employees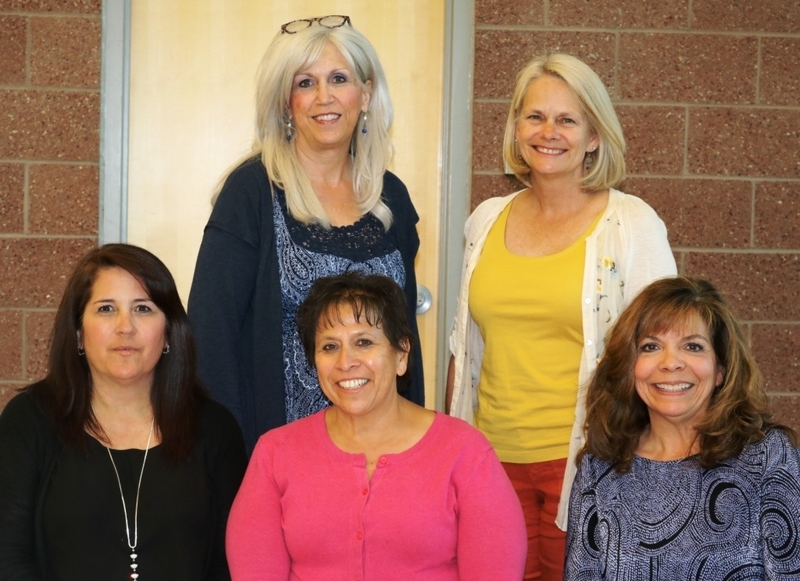 The following employees are congratulated on 20 years' service with the district: Maria Arredondo Don Crabtree Debbie Fleming Kathleen Fritz Mary Haley Michelle Mandich Rebecca Orgill Sheri Overman Jana Siverts Carol Thias Renee Torrez-Martinez Tina Young

Recognizing Ten-Year Employees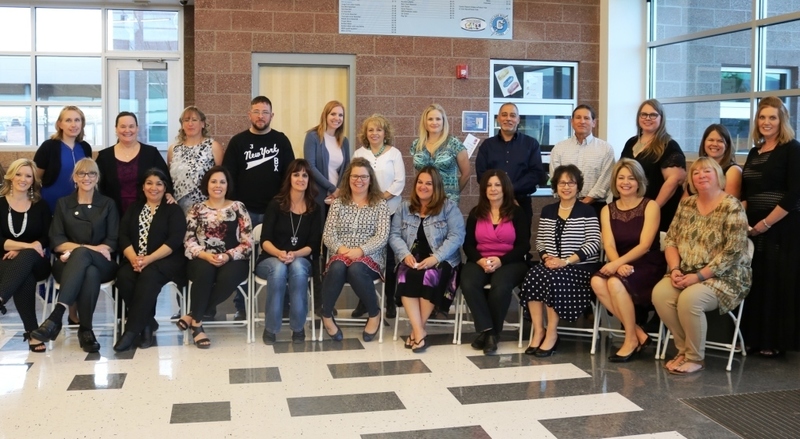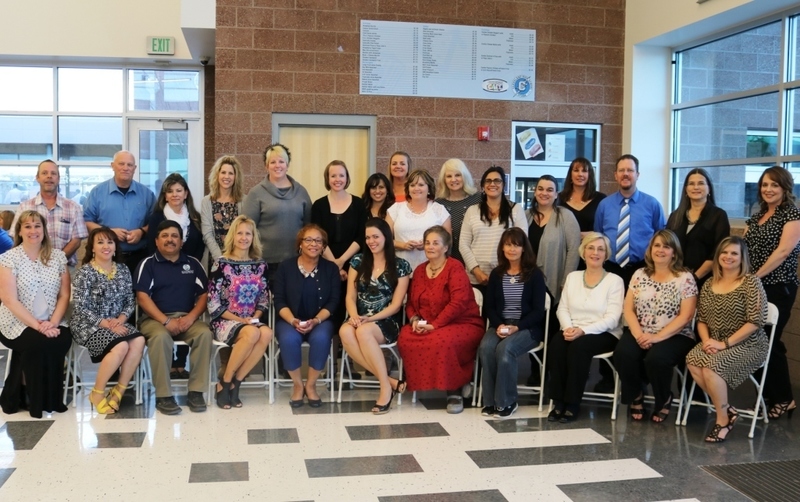 These employees are to be congratulated on ten years' service with the district:
Trudy Adams, Antoinette Alderete, Julee Amador, Corey Anderson, Lesley Armijo, Cheryl Avila, Mindy Aycock, Georgia Babb, Shelly Bartlett-Farrell, Tiffany Bem, Beverly Berch, Tami Berglund, Carmen Bogran, Barbara Borges, Phillip Bradley-Ortiz, Joanne Briseno, Claudia Brock, Christopher Brown, Kelly Burlinski, Sarah Cavinder, Yvonne Chavez, Deborah Chemski, Rebecca Cook, Virginia Cook, Leonard Cordova, Martha Crain, Cynthia Crouch, Angelica Cuevas-Duran, Maria Cummings, Lisa Dale, Ashley Daniels, Helena Davidson, Anne Dencklau, Douglas Dent, Wade Dubose, Dennis Esquibel, Kristen Ethridge, Sonja French, Amy Gallardo, Laura Garcia, Mary Lou Garcia, James Garcia, Carlos Garcia, Sandra Garcia, Jennifer Gardiner, Trenna Gilbert, Dana Gilpatrick, Sandra Glidewell, Molly Griffiths, Alfredo Gutierrez, Eugenia Hanosh, Mark Hornbacher, Lisa Hughes, Patricia Ibarra, Daniel Ilgenstein, Toby Jackson, Donna James, Ida Jarvis-Van Zelst, Cheryl Kerby, Howard Knezevich, Clavel Kole, Stacy Kuhn, David Latham, Bryn Livingston, Elizabeth Lockhart, Deanna Loehle, Julia Lowe, Jose Lucero, Lori Magee, Olivia Marshall, Michelle Martinez, Richard Martinez, Greg Martinez, A. Deborah Matison, Karin McCann, Jeannette Miller, Linda Mola, Martin Mondragon, Eileen Montano, Stephany Moore, Nicole Nagy, Joan Oliveri, Jesse Parrish, Lori Paul, Ramona Perea-Wolfe, Ellen Peyton, Julie Pierce, Cara Pino, Nathanial Pino, Greg Polanco, Christie Polanco, Javier Ramos, Dawn Ramos, Hollie Revelles, Roger Riecke, Rowdy Ringsak, Janelle Roark, Deborah Robey, Catherine Rodriguez, Cynthia Rodriguez, Marie Rodriguez, Gage Romansky, Doreen Roybal, Gloria Renee Rubalcaba, Carolyn Sandoval, Rogene Schramko, Robert Shingleton, Barbara Smith, Linda Stewart, David Stockmar, Sharon Trujillo, Juanita Valdez, Coleen Van Guilder, Maribel Vawter, Helen Vukobratovich, Rebecca Weaver, Karen Wetzel, Monica Williams, Tawnya Yates, Shelley Zachary, and Hollie Zamora