ArchivesThey walk through the doors as high school students, and a couple of hours later enter the "real world" as Rio Rancho Public Schools' four high schools said good-bye to nearly 1,100 proud graduates in May during colorful graduation ceremonies. It was a time for celebrating past successes and looking forward to college, the military, and a career.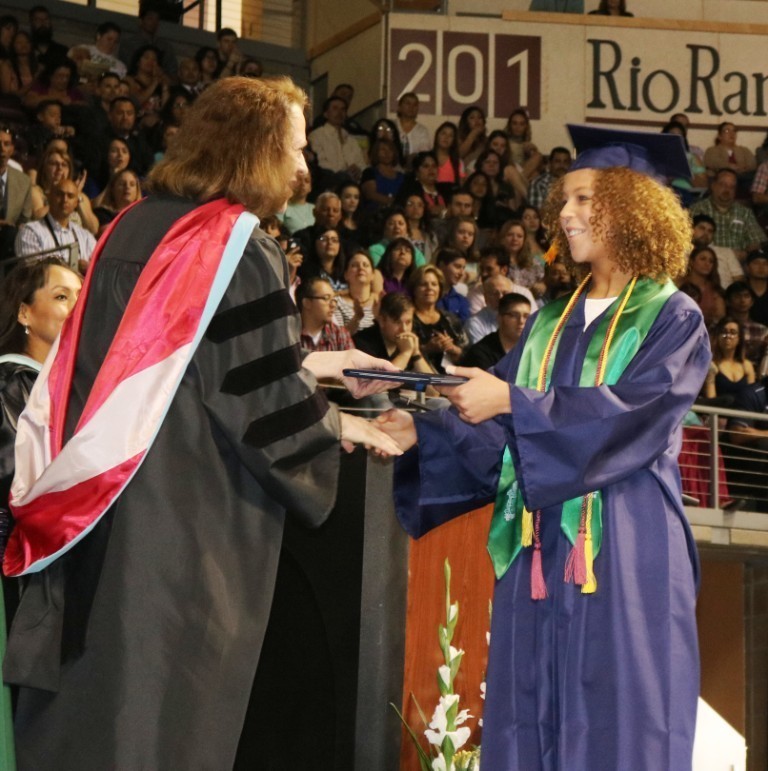 Rio Rancho High (Photos) What constitutes success? That was the question posed by RRHS Valedictorian Jessica Li, who admits her laser-like focus and an incredible amount of hard work got her to the top of her class of 521 graduates. But having made it to the pinnacle of high school success, she's found herself asking if it all was worth it, positing that maybe the real goal should be happiness. RRHS had had a dead heat for second-highest GPA and named Devan Eaton and Kinsey Warnock as co-salutatorians, with each taking a turn at the podium. The graduation ceremony was a time for good-byes not only for the seniors but for long-time principal Richard VonAncken, who usually stays in the background but stepped up to the mic to say thank you and farewell to students and faculty. By tradition, the commencement speaker is a member of the faculty chosen by the senior class; this year the honor went to AP English teacher and RhythAMetteS dance coach Christine Carson.
V. Sue Cleveland High (Photos)
For the second straight year, two Cleveland students tied academically for salutatorian, with Amit Bala and Sarah Rounsville sharing the honors. Both addressed the 487-member graduating class along with the valedictorian, Texas Tech-bound budding civil engineer Zachary Torma. Torma, who also is a pole vaulter and guitarist for the local indie band Daybreak, took advantage of his time in the spotlight to say thank you to those important to his success. He especially acknowledged those students choosing to enter the military, earning them a rousing cheer from the audience. Torma admits he was a mediocre student in middle school, encouraging his fellow graduates to never, ever give up. The sometimes emotional commencement speech, which as at RRHS is delivered by a faculty member chosen by the senior class, was given by departing wrestling coach Corey Anderson.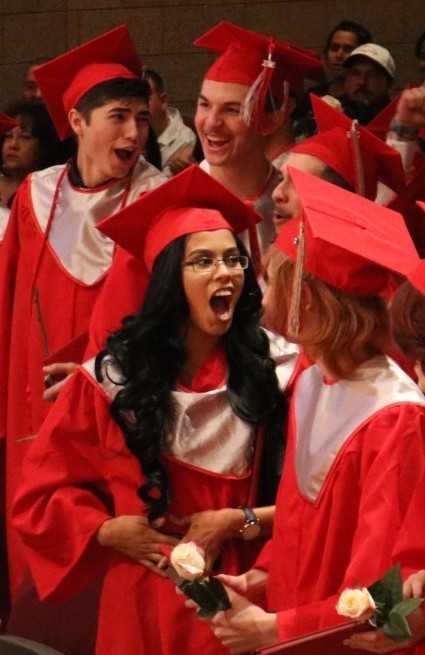 Independence High (Photos) Some of the most heartfelt moments at RRPS graduations are at Independence High School's ceremony, where many students celebrate overcoming huge obstacles to earn a diploma, learning persistence and discipline in the process. This year, 61 proud graduates earned diplomas, and as many as 20 more will graduate later this summer. Independence does not recognize a valedictorian, but several students give speeches thanking teachers and others who helped them reach their goals. Avery Trujillo recalled a a trip to principal Myra Roosevelt's office where she sat him down and asked, "Why do you make choices that make it harder on yourself?" It was a question that helped him turn his life around, and other students had similar tales of moments at Independence that got them on track to success. Academic awards were also handed out; Anjelica Maria Zavala-Hernandez had the class' high GPA. The keynote speaker was a former Independence graduate, Lori Mascarenaz.

Rio Rancho Cyber Academy (Photos) Students like Valedictorian Abdullah Shah, along with their teachers, have made the Rio Rancho Cyber Academy one of the most successful schools in New Mexico, with high academic achievement and strong graduation rates. Shah, who plans to attend UNM's honors college and pursue a degree in the medical field, was involved in numerous academic competitions and activities as well as countless hours volunteering in senior centers, the Salam Academy, and Mission of Mercy, a free dental clinic. He plans to stay in New Mexico and to continue to give back to the community. Salutatorian Brady Hamm was also among the speakers, and the class welcomed Hoffmantown Church pastor Gregory Elder as their commencement speaker. At all four graduations, Superintendent of Schools Dr. V. Sue Cleveland congratulated the graduates on meeting the rigorous requirements for an RRPS diploma, noting that colleges and universities recognize a Rio Rancho diploma as a mark of college and career readiness. School board president Don Schlichte took note of the tough economic times in New Mexico, displaying a front-page article about the shrinking middle class and reminding students to aim high in setting their goals.